The Holden Family Reunion
Moscow, Idaho July 19-20-21, 2002. Mark IV Hotel and Restaurant
Moscow, Idaho July 16-17-18, 2004. Mark IV Hotel and Restaurant
Silverton, Oregon July 2006. Dates and Hotel to be announced
Some of the people we have met in the Reunion's.
Photo taken by Carol Ann and David Williams. From a previce Reunion that we were not there. Thank you, to see more of there photo please click here!
Craig Marlette with wife Ruth (Holden) Marlette
Viettia Newcomb displaying one of her 12 or is that 13 genealogy books? Talk about talent. How about that commitment. contact Viettia for your copy of one of her books. 3 cheers to our family historian.
Our Great prize winning Horticulturalist Verl Holden holding one of his tree's.

Florence Hardesty with another of her funny books. You can see why they are funny with that hearty laugh of hers.

Vernon Marvin Holden, daughter (Terry) Teresa (Holden) Findlay, wife Gerri (Caudill) Holden
Nelson Departee and wife Marilyn (Hustler) Departee
Vera Jean (Russell) Jones, Darlene (Moehrle) Russell, Larry Russell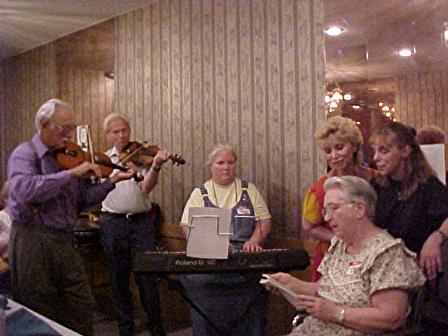 Right to Left: Verl Holden, ??, (Terry) Teresa (Holden) Findlay, Vicki Lynn (Ross) Smith, Pamela Jean (Ross), Carol Marie (Bellomy) Ross Geer.