Dated: 20 Jul 2005
Hi everyone....
are you coming? I haven't heard from some of you... need to have a head count to know if you are coming so we know how many to expect. So don't forget August 7, 2005 Crown Park Camas, WA. PLEASE COME Please let us Know as SOON as you get this... thank you, Diana
Reunion Time Again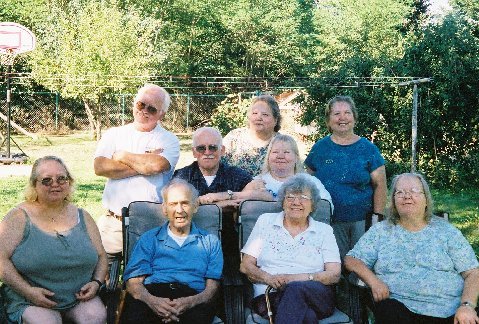 Back Row - Larry Gustin, Edward Gustin, Karen Gustin, Barbara Kennedy, Sandra Siewert
Front Row - Patty Briggs, Grandpa Gustin (Lawrence Gustin) Aunt Myrtle Buff, Diana Owens
Time - 11:00 AM - 6:00 PM
____________________________________________________________
Please Bring - Johnsonville Bratts & Buns
You may also bring any other kind of meat that you would like to have. (bring what ever fixings you need for it)
You may also bring what ever kind of food you like too!
There is a Swimming Pool Cost- Children 18 & Under $2.50
Open Swim 1:00 PM - 5:00 PM Adults - $3.50
Don't forget your own swimsuits and towels, they are not provided.
Picnic Tables will be provided, But you may want to bring your own Lawn chairs.
I hope you can all make it. We will Miss you if you are not here....
This will be the first year with out Dad (Grandpa) So Please don't make it the last year we see you...
____________________________________________________________________
Please let us know if you can or cannot make it either by E-mail or by Phone...
You can reach us Karen Gustin or Diana Owens at 360-834-5798
******************************************************************************
Also PLEASE if you have any old pictures of past family Reunions or get together, Could you Please Bring them or send them
if you can't make it, We want to try to make a Scrape Book, So all can see them.. Thank You
Also we would like to play some games and one, Karen is thinking about is a Guess who said that or did that GAME. So if you can send some things about you that we can Put in this Game it will be Quite FUN. And if you have any other suggestions for Games that we can use at our Family Reunion send them on We need them by July 10th So we can get it all together before the Reunion.