Welcome to my charms page!

My Charm: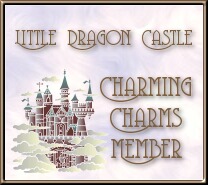 Out of respect for the original graphic artist, please do not take or reproduce any images or graphics you see on this webpage.

If you like these images, and would like to obtain them, please use the link provided, and *follow the artists term of use*.

This is very important! A lot of time and talent is put into creating these wonderful graphics and the artist deserves our respect!

Copyright ©2002-2002 Penny, All rights reserved. All other copyrights are the property of their respective owners.


Home